Many stories from friends, tourists and travelers I heard, overheard about Siargao, "Oh I love Siargao", "I'll definitely go back", "Nice Surfing out there" lots of good and exciting stories that will compel you to go.
I'm a beach guy, being born and raised near the ocean and surrounded by surfers friends in my hometown, I grew up hearing this place. I always wonder how Siargao Island look like, what to do there, and how's the people. These questions go on and on for quite a long time over my mind that's why this island made it to my travel bucket lists.
Then I made it! Look what I, my cousin Jerome and friend Ruben discovered during our short trip in Siargao. I fell in love, surprised and wanted to go back.
*Special thanks to Hon. Mayor K. A for hosting us. Cheers!
Here is my Itinerary for 4 Days in Siargao Island, Philippines
Day 1 : Ronaldos's Inn & Restaurant, Bravo Beach Resort, Isla Mercato, Nomad Bar & Grill, Boyum's, La Santa, Baile Restobar
Day 2 : Sea Of Coconuts, Rope Swing, Akeiko's Locale Bar & Grill, Pacifico Palms Resort, Magpupungko Rock Pools, Cloud 9, Boyum's.
Day 3 : Sohoton Cove National Park, White Beard Coffee, Boyum's, Trattoria Altrov'é, RumBar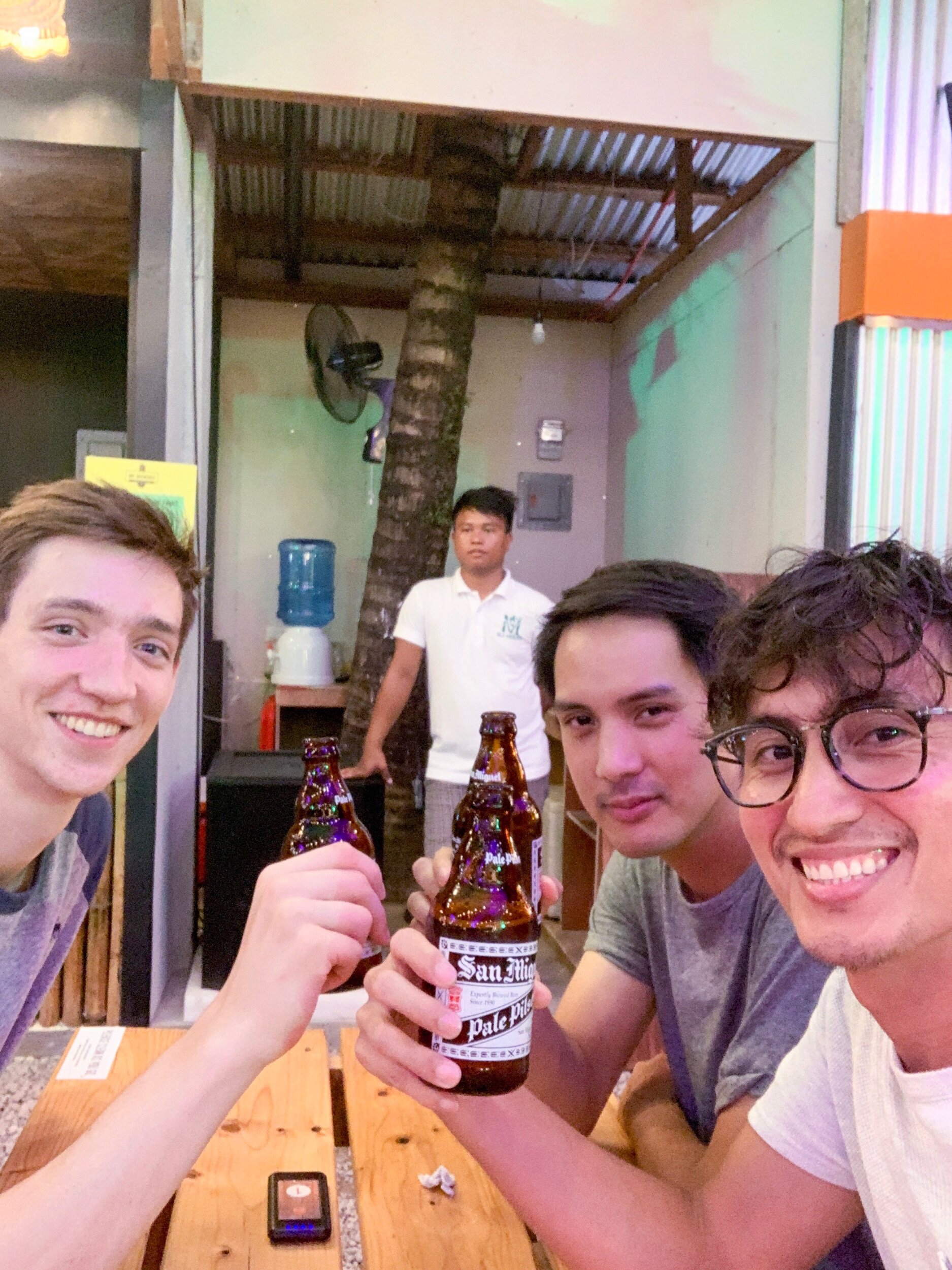 Day 1:
> Arrived into Del Carmen Airport.
> Stay at Ronaldo's Inn & Restaurant.
> Walk along the seashore to feel the breeze, smell the aromatic sea air while immersing your tired feet into warm salty water. You deserve it!
> Light snack at Bravo Beach Resort. Enjoy tapas, tacos and breads.
> Walk along the strip at tourism road. Check out some shops, bars and restaurants.
> Dinner at Isla Mercato. I ordered BBQ's at Raffy's Grill. Drink local cold beers and play beer pongs.
> Walk to Nomads Bar and Grill (affordable drinks) and Boyum's to enjoy live acoustic music and drinks.
> Party at La Santa Surf Shop & Bar (lots Europeans). The bar is quite small and busy so you have to wait for awhile to get your drinks. To be honest, I did not enjoy the vibe there. But you have to go. Maybe you going to like it there.
> Party at Baile Restobar (mixed of locals, tourists and travelers). Party until you drop. I am very surprised about the nightlife.
We partied on Thursday night and every bar is busy along tourism road then the next three days its really quite even friday and saturday night!
Day 2:
> Breakfast at Ronaldo's Inn & Restaurant. I ordered Beef Tapa with brewed coffee while waiting for our pick up.
> Make a quick stop at Sea of Coconut viewpoint. Watch the coconut palms and trees dances along the wind. There are local vendors that sells bamboo straws, buy one if you can. I think its better to get it from here compared to the souvenir shops.
> Do the Rope Swing. You can choose to do the canoe ride along the river too. (Be careful on your landing on the rope swing, my friend cut his heel and we ended up in the hospital for 2 hours because the wound is bleeding so much.)
> Lunch at Akeiko's Locale Bar & Grill. Enjoy and drown yourself with Filipino food.
> Chill at Pacifico Palms Resort. Take a nap on their hammocks and enjoy the view. Surely the sea air will knock you out to sleep here.
> Enjoy the tidal pools at Magpupungko Rock Pools. Make sure you know the tide schedule to enjoy it longer.
> Surf at Cloud9. Don't miss this! (depends on the wave, weather and your skill level). Board rental and instructor costs around 500 PHP.
> Dinner at Ronaldo's Inn & Restaurant. Order their BBQ's! Chill and drink at Boyum's until you drop.
Day 3:
> Breakfast at Ronaldo's Inn & Restaurant. Tried their Silog's.
> Explore the local market. Buy fresh fish, meat, rice and fruits.You need it for your the lunch in Sohoton Cove. Buy some snacks too as it is a 4Hr boat ride back and forth.
> Get on the boat from General Luna pier to Sohoton Cove National Park. This tour was arranged by someone for us, so we did not paid anything. I saw the fare chart at the pier and it costs around 5,000PHP for six persons.
> Arrived at Sohoton Cove National Park. The boat stops at Titikan Lagoon. There is an entrance fee.
> Jump on to the small orange boat then wander and enjoy the Jellyfish Sanctuary.
> Take the free helmet for safety and board to one of the private pump boat. The boat will take you to Hagukan Cave and Magkukuob Cave. Enjoy the ride and beautiful limestone rocks.
> Swim and dive under the rock ledge to enter Hagukan Cave.This luminescent dark cave will amaze you. Start splashing the water and see how it glows.
> Stop at Magkukuob Cave. Climb up into a dark cave about 5 meters and throw your self from the cliff. Put up some show and your flexibility skills but don't injured yourself!
> Lunch at Titikan Lagoon. Fill your hungry stomach. We ate grilled fish, chicken adobo, rice and mixed fruits (mango, banana & pineapple) for dessert. Take your drone and fly it around.
> Leave Sohoton Cove National Park and stop at Naked Island. No one is naked there. It's just plain white sand. Swim and relax. Time to absorb everything happened during the day. Don't leave trash!
> Arrived at General Luna pier. Walk to White Beard Coffee. This place serves one of the tastiest cinnamon roll (as in promise) and the best coffee too! the owner is a former barista of Google Singapore. So he is not playing on his coffee. He roast and made signature coffee blends. Visit this coffee shop, I really recommend it!
> Take a shower and do a quick nap. Chill at Boyum's for live musics get some beers to kick-off the night.
> Dinner at Trattoria Altrov'é. You have to leave your slippers to enter the dining areas. Tasty Italian recipe with local twists. We ate pizza, pasta, lasagna etc. (there are some mosquito so put some insect repellent).
> Get on to the tricycle. We let our guide bring us to anywhere. We stopped on one bar and we saw big crowds of local people, tourists and travelers. There's a live DJ and everyone is having a good time. So if you want to party in Siargao, ask the local they knows best. After a long night of drinking and dancing, we move out and ate some fishball and Kikiam along the street. Lots of food carts waiting outside of the that bar.
> Visit RumBar and continue drinking until the closing time.
> Sleep if you can!
Day 4:
> Breakfast at Ronaldo's Inn & Restaurant.
> Shop along tourism road.
> Try the vegan ice cream at Buonana.
> Leave General Luna to Del Carmen Airport. Fly out to Cebu then Singapore.